Top Questions to Ask Yourself Before Starting a Home Renovation Project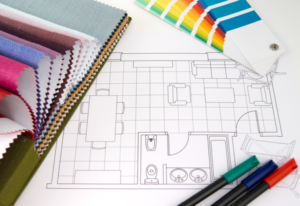 Welcome, friends! This is the first post, so I'll start off with a little intro. 
I'm Michele, the founder and CEO of MMK Home & Design, which I started officially in 2020. This company gives me the chance to combine my B.S. in interior design with my extensive experience working with home improvement suppliers. I bring all my knowledge and expertise into making your home more beautiful, reflecting your style and making it more functional for how you live.
My services include kitchen and bath designs and installations, kitchen refacing, painting, material and finish selection, furniture layout, specs and procurement, color selections (paint, décor, furnishings), flooring design and installation, exterior patio/deck design, window treatments and home staging. 
Providing a seamless experience – from design to contractor selection to installation – is what sets MMK Home & Design apart. You won't have to find multiple resources to help with your vision, because we're a one-stop shop. 
I work with clients who know exactly what they want, and those who have no idea where to start!
Considering how a space will be used now - and later - can help us make the best decisions.
Speaking of where to start, I'd like to share the questions I ask a client when starting a home renovation or redesign project. We need to identify what you want, alongside what you need, for the outcome to be something you love! Some of these may be obvious, but others may require some forward-thinking. For example, you may have toddlers now. But before you know it, they'll be teens! Considering how a space will be used now - and later - can help us make the best decisions.
1. What is my budget and timeline?
Most homeowners don't have a blank check for home design! That's why we identify the spending range you have for a project and make design decisions that comfortably fit within it. If you're not as concerned with some aspects of a room design, but others are very important to you, that's where you'll want to spend more of your budget. Know that changes to a design plan after the initial quote may increase costs. From a timing perspective, some projects can be done quickly, but others may be staggered over months. Talk with your designer and contractor about a timeline and make sure you can do without the space to be renovated during the projected duration of the project. For example, if you're hopeful to use your new space for December holidays, you'll want to start well ahead of your goal!
2. Which styles do I love?
It's much easier for your design partner to start from knowledge of your style. If you don't know whether you like modern or traditional design, that's fine! Most people don't subscribe to just one particular décor style. You should look at magazines, Pinterest, Houzz, things you see on TV or in movies, and start a "Love it" folder. Make sure to note what you like about the image you saved. Maybe it's a whole room. Maybe it's just an area rug or wall color. 
You may not see how the dots connect between the things you like, but your designer will, and can make recommendations based on what you save and share.
Most people don't subscribe to just one particular décor style.
3. Who will use the room and how should it function?
Think about how you and your family use the space currently, and how you wish you could be using it.
For ALL rooms, consider: Do you have accessibility needs? Do you want to use sustainable or eco-friendly materials? Do you plan to sell or move from this home with 5-10 years? Do you plan to remain in your home permanently? How do you want to feel when you step into this space? 
For kitchens, consider: Do you cook regularly? Do you entertain frequently? Do you like to bake or specialize in certain kinds of cuisine? Do you have an active family with people coming and going often from the room? Do you like to see other areas of the house while cooking?
For bathrooms, consider: How many people make use of this room? Do you need more storage for linens? Do you need space for doing makeup? Do you have younger children using the room? Or teens? Will seniors be using this bathroom with need for assistance getting into or out of the shower or tub? Do you want to re-tile a shower or tub surround? Are the countertops at an optimal height for the people using them? 
For paint selection, consider: Are you painting the entire house or just select spaces? Do you need to match an existing color scheme? Do you want to use a space for a specific purpose?
For backyard/outdoor living areas, consider: Do you entertain outdoors? Would you use an outdoor kitchen, fireplace or TV area? Do you want to include water features? Are you hoping to use this space even in inclement weather? Do you want to combine hardscape and softscape? Is irrigation a consideration?
Asking yourself these questions about the room you want to update will help you identify the elements of a room design you'll want and need.
Every home renovation project starts and ends with good communication. Reach out so we can start a dialogue about your next project.